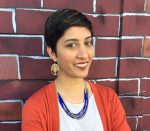 My mission is to improve your health, one cycle at a time. That's why my areas of focus are menstrual health, fertility, and motional health. I have a private practice in San Francisco in addition to working collaboratively here at the Integrative Wellness Center and I love the balance of both.
Patients who work with me are partners and collaborators in the exploration and improvement of their bodies and minds. I don't work on you, but with you. You're the expert in your experience and I'm here to help provide a little nudge or piece of information that can unlock what your body has been trying to do for you.
I was a dancer so I know how being forced to step away from activity can be painful emotionally and physically and I had my own women's health struggles that brought me to acupuncture, first as a patient, then as a practitioner. Now I spend my free time swinging a lightsaber and singing Beatles songs at karaoke.
You can find my thoughts on acupuncture, women's health, and emotional health on Instagram @acuppaqi and on my A Cuppa Qi blog.
I'm looking forward to meeting and working with you!